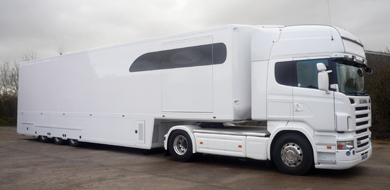 Team Support...
Full race support... We are a professional race team, so on race-day, we will provide full workshop capabilities - with awning no matter what the weather. The set-up is impressive, with mechanics on-hand, ...and we also provide light-refreshments as part of the package. Support will consist of car-storage and preparation, driver-tuition with a data acquisition package, and a pre-race service and set-up. We use state-of-the-art transportation (as pictured) to ensure that your car is carried safely by our team to track; our heated and air-conditioned transporter also offers on-board accommodation, changing and shower facilities.
Team support, test-day and track-day support... We can provide a testing session of your choice to improve car performance and handling ...and most importantly, provide crucial support on driver-coaching.
We have access to full data capabilites as the season progresses enabling you to benchmark your lap times.
Back to top